Here We Go! Here We Go! Here We Go!
In anticipation of the oncoming football season, storming its way through the blissfully quiet summer like some rampaging, infidelity charged super beast, Moon&Back Music cobbles together a little Sunday league team so as not to miss out.
Although the glittering stars of our team are accomplished musicians, song writers and artists in their own right, many have had, in their past incarnations, chances to perform on a professional sporting stage. So grab your black and orange scarf, choke down a half time pie and prepare to cheer for M&B FC, the bookie's favorite to end in tears before a ball has been kicked!
---
Goalkeeper – Zakk Wylde
Keeping the nets for this maudlin mash-up of musical millionaires is the ever-controversial guitar wild man, previously of Ozzy Osbourne's troupe and Black Label Society. He has the important job of keeping out the opposition with his frankly gargantuan hands, best, of course, for screeching up and down the fret board to such timeless classics as "Hellraiser" and "Miracle Man".
---
Wing-Backs – Keith Moon (The Who) & Lars Ulrich (Metallica)
Taking up a smaller, yet still noticeably important defensive role are two drummers to complete the back four. Lars Ulrich was a highly touted tennis player in his youth before the "glamour" of thrash metal dragged him away bringing at least some sporting and athletic prowess to a team sadly lacking in that department. Keith Moon was… well Keith Moon.
---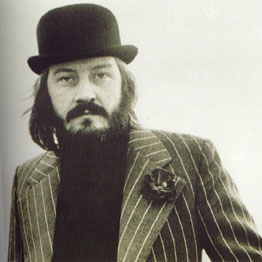 Centre-Backs – John Bonham (Led Zeppelin) & Steven Adler (Guns n Roses)
For the heart of defense there are none bigger, bruisier or boozier than Bonham and Adler. Known more for their off stage antics, be it smashing through hotel walls or feeding incredulous fish into parts unknown of bewildered groupies, these two get the nod at the back from the gaffer, purely for their raucous plans for the team Christmas night out.
---
Wingers – Angus Young (AC/DC) & Bob Marley
Using the age old tactic of speed and skill, Young and Marley get their call up to this prestigious and well followed ball club with names that have the fans in the stands cheering and screaming for a piece of the action. Angus with his hyperactive, duck walking antics to leave any defender in his dust and Bob, who was an accomplished footballer in his native Jamaica. They aren't half bad guitarists either as it happens.
---
Central Midfield – Rod Stewart & Liam Gallagher (Oasis)
The Oasis front man is one of the more prominent football fans in the music industry, his well publicized adulation for Manchester City, along with his brother Noel, has recently become more feverant and public. Nothing, of course, to do with the team's recent success and economic sky rocket… A true fan.
Hot Rod, despite being cursed with the affliction of being both a football fan and Scottish, take pride amongst place at the heart of midfield, gifted with the captain's armband. Who else could it be?
---
Forwards – Joan Jett (The Runaways) & Michael Hutchence (INXS)
In the interest of equal rights and a glaringly obvious tip to the recent Women's World Cup in Germany, Joan Jett, Punk Queen's temper who no woman, a quite a few men, dare to cross brings a tempestuous, thrashing attitude in front of opposition goal.
Partnered with smooth talking, self choking Michael Hutchence because every successful team needs a deceased sex symbol.
---
Manager – Brian Johnson (AC/DC)
The Geordie warbler gets the dugout hot seat, he provides his own flat cap.
---
Medics – Steven Tyler & Joe Perry (Aerosmith)
When injuries strike, who better than the Toxic Twins to provide something a little more stimulating than a slice of orange and the magic sponge
Jonathan Whitelaw
---
All pictures are copyright their original owners. All acts mentioned can be found at their official websites.